Kamalnayan Bajaj Hospital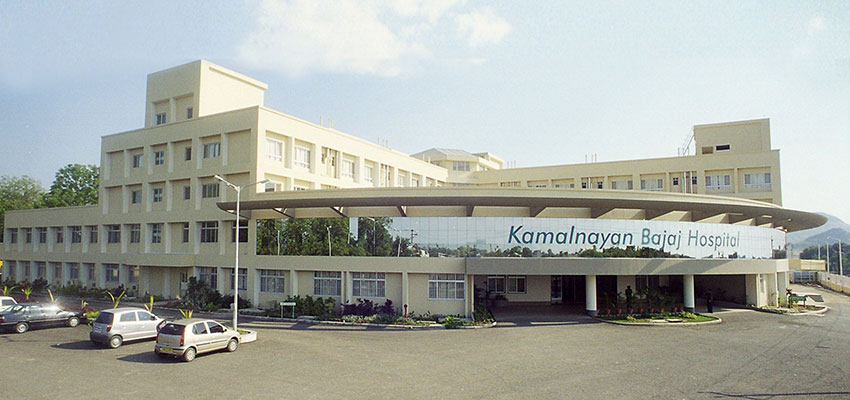 In 1989, the Kamalnayan Bajaj Hospital was started at the initiative of Mr. Madhur Bajaj, son of Shri Ramkrishna Bajaj; with a mission to provide top-notch super specialty and tertiary medical care facilities to everyone in the Marathwada region in Maharashtra, regardless of their socio economic status. Situated in Aurangabad, the hospital was established by a Trust, the Marathwada Medical and Research Institute (MMRI) which is wholly managed by the Bajaj Group.
The hospital employs the latest diagnostic equipment, specialist doctors and well-trained medical staff to help patients fight the most dreaded diseases.
Right from treating patients for cancer, kidney transplant, open heart, neurological and eye and ear surgery, to orthopedic eventualities, the hospital has brought back the hope of a healthy life in millions of lives. Today, the hospital is the preferred choice of many patients and its cardiac and intensive care units register occupancy of 95 per cent. To serve the increasing influx of patients better, the hospital has expanded its capacity to 250 beds.
The hospital extends its services to the economically weaker sections of society, either free of cost or at a subsidized rate through a special program.
Till date, the hospital with the help of Jankidevi Bajaj Gram Vikas Sanstha has conducted health check-up camps in over 600 villages in the Aurangabad district of Maharashtra, where more than 32000 patients have been given treatment and medicines free. Out of these, 5693 patients needing further care were admitted to this hospital and free treatment to the tune of Rs. 25.3 million has been rendered.