Jankidevi Bajaj Gram Vikas Sanstha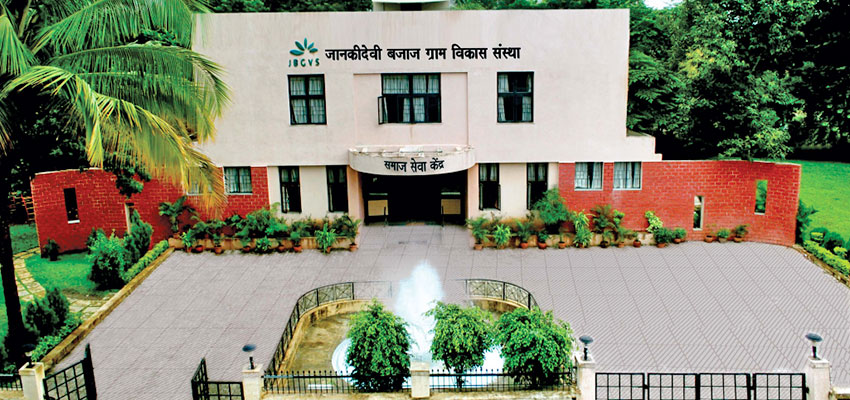 Established in 1987 and named after Padma Vibhushan Smt. Jankidevi Bajaj, the Jankidevi Bajaj Gram Vikas Sanstha (JBGVS) single-mindedly works towards bridging the divide between urban and rural India by focusing on integrated rural development activities.
The Sanstha is now actively ushering in change in over 100 villages in Pune, Aurangabad and Wardha in Maharashtra, and Sikar in Rajasthan through various programs. All JBGVS programs are designed in consultation and active participation of the villagers for better acceptability and effective implementation. JBGVS's integrated rural development work is aligned with the guidelines of United Nations' Millennium Development Goals. The five major focus areas are Economic Development, Education, Health & Hygiene, Social Development and Environmental Development. Periodical surveys are carried out every three years to measure the rate of development achieved through the implementation of these programs.
Economic Development
Imparting knowledge of modern, economic and organic agricultural practices through activities like demonstration plots, poly house farming, organic farming and mini irrigation
Increasing the scope of animal husbandry and dairy farming in income generation. Under Kamdhenu cow project, JBGVS in partnership with Rotary Club of Poona North distributed 250 cross breed cows in the last 5 years. By 2012 the number of cows has increased to 800 and is generating yearly income of Rs. 52.5 million.
Nurturing young entrepreneurs by giving educational and training support in vocational activities
Implementing Aamrai, a seven year horticulture project, in partnership with NABARD for mango and amla orchard development by tribal people on their wasteland. The project covers 1000 tribal families in Pune district. The project will bring 900 acres of waste land under green cover.
Education
Increasing adult literacy through 'each one teach one' method where a school-going child teaches one illiterate older relative
Providing infrastructure and teacher's training support to government-run primary school
Conducting an informal program called Rural Education and Information Network (REIN), one-hour before or after school through senior boys and girls.
Health & Hygiene
Supporting a government-run comprehensive reproductive and child health program for adolescent girls and expectant mothers
Organising periodic health checkups and immunization for anganwadi children
Monitoring the quality and quantity of food served to anganwadi children
Educating lactating mothers on the advantages of breast feeding
Actively assisting the Village Child Development Centre (VCDC)
Arranging mobile clinics and health checkup camps for the remotely located villagers
Training midwives to handle medical emergencies
Conducting intense awareness campaigns to promote construction of proper sanitation facilities and separate sanitation complex for girls and boys in schools
Organising health check-up camps and HIV/AIDS awareness programs
Social Development
Conducting Panchayat Raj training for elected members
Creating leadership opportunities through mahila melava, mahila mandal, self help groups, exposure visits etc.
Encouraging youth/sports clubs to inculcate camaraderie and spirit of sportsmanship
Forming bhajan mandal for senior citizens
Conducting vocational training programs, specifically for women and creating a fund for self help groups
Environment Development
Implementing government programs and international projects for water and soil conservation
Educating people on waste water disposal measures like making of drainages and soak pits
Undertaking tree plantation
Economic Independence
Kashi-ka- bas, a quaint village in the Sikar district of Rajasthan and the birthplace of Jamnalalji, has felt the winds of change with JBGVS. Since 2010, JBGVS has implemented various programs in health care, education and women empowerment in 10 villages in and around Kashi-ka-bas. The Sanstha has redefined life in these villages by:
Recruiting people from a socially disadvantaged background and ensuring there is no discrimination against them at the workplace
Conducting vocational training programs specifically for women and creating a fund for self help groups
Facilitating the procurement of goats and buffaloes for poor and Below Poverty Line (BPL) families
Repairing school buildings and construction of sports facilities at the Jamnalal Bajaj Senior Secondary School
Supporting the construction of low cost houses approved under the Indira Awas Yojana
Organising health check-up camps and HIV/AIDS awareness programs
Periodical surveys are carried out every three years to measure the rate of development achieved through the implementation of these programmes via use of social indicators
Social Welfare
Samaj Seva Kendra (SSK): It works for the upliftment and welfare of people inhabiting the areas around the Bajaj Auto plants at Akurdi and Nigdi in Pune. SSK conducts:
Basic tailoring and fashion designing courses for women
Short term courses like mehendi, rangoli, catering, glass painting, frame making, cloth painting etc. which enable women to explore their creative talent and earn
Skill development camps during summer vacations for young girls
English medium nursery class where the all round development of kids, through extracurricular activities and competitions, is the prime motive
Two batches of literacy classes regularly in association with Jan Shikshan Sansthan
Extracurricular activities like karate, yoga, music, dance, hobby classes at the sports and children's club
Senior citizen programs where the elderly meet and sing bhajan and share life experiences
Music classes where kids are trained to play Indian musical instruments, as well as in classical and western dance
Family planning programs, medical checkups for kids and HIV/ AIDS awareness rally
Teachers training program and certified beauticians diploma course
Environment Protection
Participating actively in the Ministry of Corporate Affairs' Green Initiative for paperless compliance