Gramopayogi Vigyan Kendra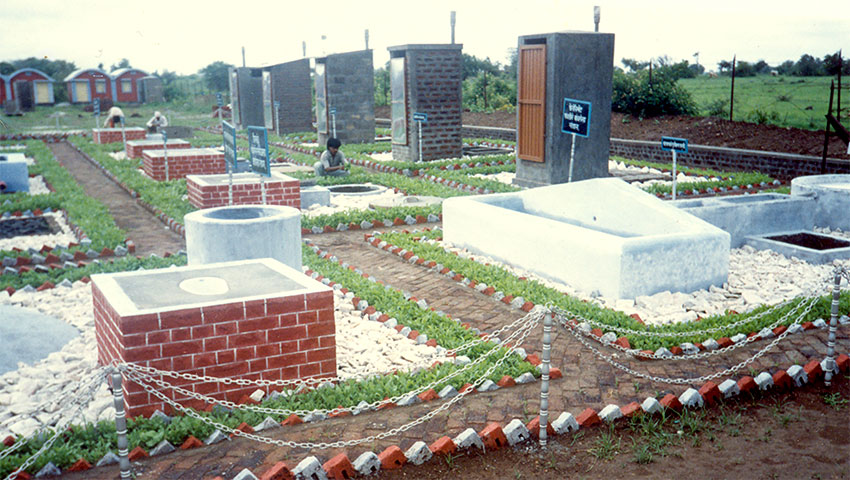 The Gramopayogi Vigyan Kendra, also known as the Centre of Science for Villages is committed to the development of the rural areas with the application of science and technology. Sanitation, conservation of rain water, purification of drinking water, garbage disposal and low cost housing using local materials are some of the focus areas of the Centre. It also organizes training programmes in these areas.
To change the scenario of unhealthy open defecation, the centre has designed and developed various models of toilets with special sanitation systems. It has also set up a Sanitation Park. The idea is to exhibit all the appropriate technologies for rural sanitation. The concept of Sanitation Park was developed by Shri Sameer Kurvey, the then Executive Director, Centre of Science for Villages, Wardha in 1995. Subsequently it was put into practice at several places in India. Models such as of bamboo superstructure (cloth, bamboo mat), toilets with deep and shallow water seal, homemade pan toilet, eco sanitation model, school sanitation model, ladies and gents urinals, various toilet models for Anganwadis, community toilet attached to biogas and water management system, etc. are introduced to the community.
Other areas of activities include agro waste management, vermicompost, animal waste management, designing and promoting household solar cooker, solar water heater and home light systems, etc. The Centre also provides training in popularizing improved tools and village industries such as handmade paper making, bee-keeping, pottery, etc. Research is carried out in organic compost, irrigation methods and improved farming tools.