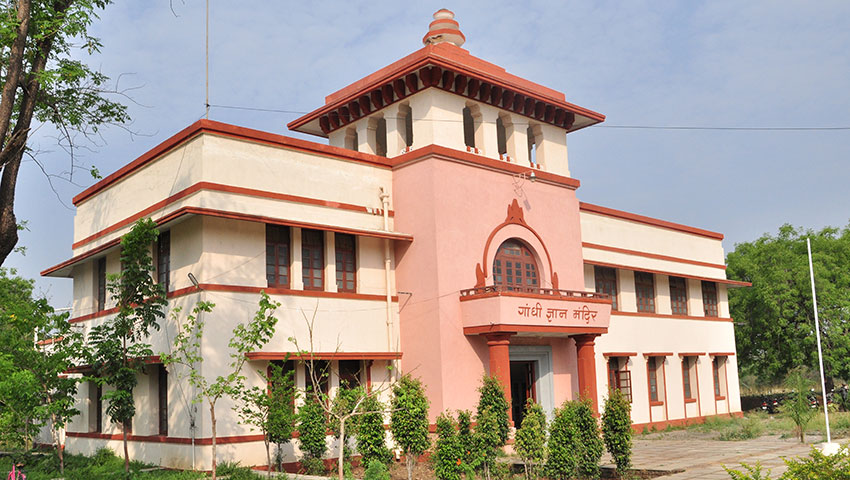 Mahatma Gandhi's timeless values and philosophy are being channelised to the people through the Gandhi Gyan Mandir established at Wardha in 1949. Conceived by Shri Jamnalal Bajaj, Gandhi Gyan Mandir took concrete shape in 1950. Dr. Rajendra Prasad, the first President of India laid its foundation stone and the first Prime Minister Pandit Jawaharlal Nehru inaugurated it on 5th January 1954. It is situated opposite to Bajajwadi.
Gandhi Gyan Mandir houses a public library with a sizeable collection of Gandhian literature in various languages. It is a rich repository of knowledge for scholarly research on the subject. The institution also organizes lectures, seminars and discussions.
The Gandhi Gyan Mandir also houses a Bajaj Science Centre which was set up in 2008. The aim of the centre is to instill a passion for science and innovation in young minds; and through this, enable them to become tomorrow's visionaries of the scientific world. The Centre enables students to understand fundamental concepts of science and mathematics more effectively and easily.
Starting with forty students the Centre now has over 400 students with specially designed, equipped laboratories. Over 100 students travel 15-50 kms to reach this Centre. The Centre is also a training ground for science school teachers from Vidarbha.